Is a park ever permanently protected? Will tomorrow's leaders appreciate our parks? Will they work hard to steward them?
One thing I know for certain is that the leaders of tomorrow are children today. And one of the best investments we can make in our parks is to nurture a new generation of young people to grow up and fight for them. But first, we must make sure our youth are getting to the parks because people protect what they love, and to know the parks is to love them.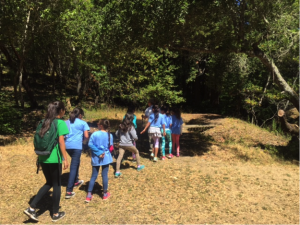 The benefits to kids spending time in nature has been well-documented. For example, studies have shown that the closer kids are to green spaces, the more likely they are to run around outside. And do better in school. And be more focused.
This is why the San Mateo County Parks Foundation started the Youth Environmental Education Field Trip Program. The Field Trip program provides outdoor education opportunities for low-income youth in San Mateo County. This program serves schools, after-school programs, and nonprofits. A lack of transportation is often cited as a barrier to getting kids to the parks. We find this unacceptable. Every child in our county should be able to stare up in awe at a redwood tree or feel the ocean breeze on their skin.
The San Mateo County Parks Foundation will fund a school or youth organization's transportation needs and will connect them to trained docents or rangers who will lead them on hikes and explain the wonders of the park.
So far in 2018, we have been honored to support the field trip needs of St. James Community Foundation in San Mateo and the Wilderness School in Daly City. Help us spread the word about this program and together we can connect more kids to parks!
Testimonials:
 "My group and I had so much fun on our field trip to Huddart Park…to be honest, that was my very first time actually going on a hike and it will probably be the best one in my life."
– Juan Carlos, age 7
"For many of the students, this was their first time hiking, exploring, and learning about plants and animals here in our county. This hike gave the students a firsthand experience to support the topics we are learning in science! Thank you for the bus funds to make this trip a success!"          
– Shannon N., 1st grade teacher, Bayshore Elementary
"Thank you so much for allowing our students to experience such beauty. They had an amazing time hiking, taking pictures and video of trees, banana slugs, and the creek. The students had hours where they could just be kids, getting dirty, climbing on and in trees, and learning to skip rocks. Many saw the ocean, horses, cows, chickens, and goats for the first time on the way to Memorial Park."
– Lindsay B., St. James Community Foundation