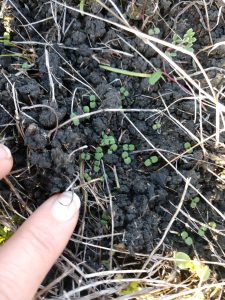 Thanks to our generous supporters, the San Mateo County Parks Foundation recently made a gift to support a number of projects and programs in our local county parks. Together we are planting seeds that will germinate and grow into great things for our communities. While the parks are protected, it takes a lot of people and work to steward them in the midst of a booming metropolitan area. Here is what we are supporting…
The San Mateo County Parks Foundation completely underwrites Bicycle Sunday, the year-round bicycle event that takes place along a 4-mile section of Cañada Road between Highway 92 and Filoli. Our funding supports the park aides who close the road down and ensure cyclists' safety, as well as the storage sheds that hold barricades and other items for the rangers to use. We are trying to get out there more often with an REI bike tech who will be available to help with minor tune-ups and fixes to your bike, should you need it. If the weather holds, we will be there next Sunday, March 25 with the Western Wheelers Bicycle Club. Come say hi! We'll be at the intersection of the Belmont bike path and Cañada Road.
Last winter, Alambique Trail in Wunderlich Park was washed out. The fix is a two-part affair that includes a complete re-route of that section of trail. The Parks Foundation has raised over $12,000 for the fix, with support from Bay Area Barns and Trails. As soon as the wet weather has passed, visitors should soon be able to make this particular trek with relative ease and comfort.
San Mateo thornmint is a tiny plant, but serves as an indicator species for the overall health of the ecosystem of Edgewood Park and Natural Preserve. A federal and state endangered annual mint species, the only known population of thornmint is located at Edgewood and has been in significant decline. In 2008, only 249 individual plants were identified at Edgewood down from an estimated 53,000 plants in 1994. In 2008, a comprehensive restoration project began for the thornmint, with funding from Friends of Edgewood. In 2016-2017, the Parks Foundation began supporting this effort with support from Mellam Family Foundation. By May 2017, a total of 7,549 plants occupied over 245 square meters at Edgewood, the highest number of individual plants and the largest area covered since the project began. Efforts are ongoing to establish new colonies which could prevent the extinction of this species.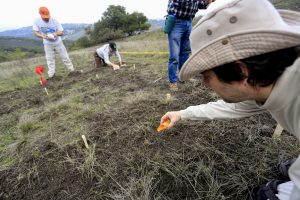 We are again pleased to be one of the underwriters of OpenRoad with Doug McConnell, now in its fourth season. Stay tuned for the airing of a special segment on San Bruno Mountain, an ecological island surrounded by urban development. Once the site of a fierce land use battle, San Bruno Mountain is a protected place home to three endangered and one threatened butterfly species and fourteen rare and endangered plants. OpenRoad airs on NBC Bay Area, Sundays at 6:30pm.
Finally, we are excited to play a role in the designation of the Portolà Expedition as a National Historic Trail. The Ohlone-Portolà Heritage Trail in San Mateo County will be a 50+ mile interpretive and multi-use trail and auto-route that honors the region's Native California Indians and commemorates the Portolá Expedition by taking the public back in time to understand and appreciate native history, culture, village sites and trails, and follow the footsteps of the first Spanish explorers to see the San Francisco Bay in 1769. The Parks Foundation is funding logo and identity development.
Thank you to all of our donors who stepped up and contributed to make these projects and programs happen. You are appreciated!