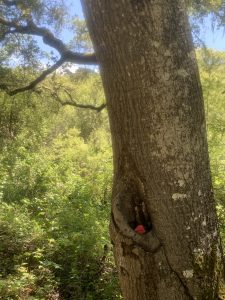 This past Tuesday, I was working from home, sitting at my table in the same place I've been for weeks. My head kept turning to look outside at the sunshine hitting the trees. I wasn't feeling very productive or motivated. In fact, I was feeling drained, overwhelmed and anxious. It was Noon and I decided it was time to take my own advice and indulge in a nearby nature break. In fact, I would take it a step further and give myself an activity: I will go shoot a rainbow.
Which meant I grabbed my iPhone and headed outside in search of all the colors of the rainbow in the natural world.
I kept it local, walking to nearby nature: a city-maintained trail system and my usual neighborhood haunt. I maintained 6 feet of physical distance when I came across anyone (which is a lot more people these days) but soon I found myself alone. I chose the lake trail, looking intently for anything red, orange, yellow to 'shoot' for my spring rainbow.
My pace was a lot slower than normal because I was very focused on everything around me. Already I had seen red berries, a red leaf, a western columbine. And I soon noted that I was smiling. It felt like my whole body was smiling. My anxiety was being washed away by the sunshine. My mental block was dislodged by sheer delight at discovering an abundance of wildflowers.
Then I noticed something bright red sitting in the nook of a tree. It was a red-painted rock with the phrase #loverocks on it. I felt like I had just been rewarded for being present to my surroundings. Love definitely rocks and rocks are lovely too! I wasn't hiking full speed ahead like I normally do. I was slow and deliberate, looking for the colors of my rainbow and receiving a lot more in return.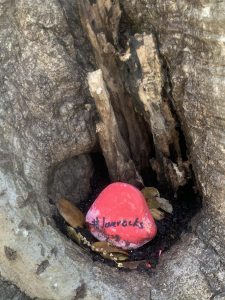 This was fun. I was outside, surrounded by nature, with birds chirping and the sun shining.  I gave my anxious mind a rest. My body and soul were reinvigorated. I felt pure joy looking for my rainbow. That rainbow is always there, waiting to be seen by any one of us.
Once I got home, I took another piece of my own advice and used the iNaturalist app to log my findings and identify some of what I saw, like the giant trillium. I am not an app person, but this was also fun. And it is good practice for the upcoming City Nature Challenge set to take place April 24-27. People are invited to embrace the healing power of nature and partake in a global, collaborative event. It has been modified in light of COVID-19, but people are still encouraged to safely document biodiversity from their own backyard or nearby nature.
When it was time to sit down and work again, I felt fresh and clear-headed. I felt inspired too. Walking is such good exercise, but a mindful walk in nature is a healing balm for the soul. Not sure if you have any nearby nature? I guarantee you do. It all starts with that first step outside and a curious mind.
My rainbow: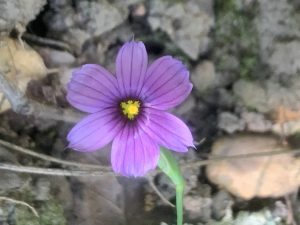 Take that break and go shoot a rainbow. We'd love it if you shared your rainbows with us! Stay well, my friends.
Michele Beasley is the executive director of the San Mateo County Parks Foundation and a big fan of #nearbynature.