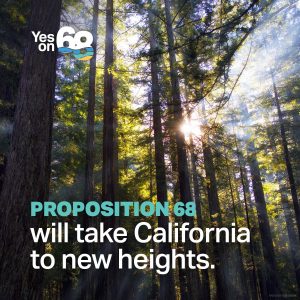 On June 5, 2018, California voters will have a chance to consider a $4.1 billion parks and water bond, the first parks and water bond to appear on a state ballot in 12 years. San Mateo County Parks Foundation endorses Proposition 68 and urges your support of it too.
Over $1.2 billion is for parks, including:
$725 million in grants for parks in park-poor areas
$218 million for existing state parks, including $5 million for local agencies that operate a unit of the state park system (i.e. San Bruno Mountain)
$30 million in competitive grants for local park and open space districts to create, expand or restore parks
Specific funding allocations for the Bay Area include:
$20 million for the Coastal Conservancy to help fund Bay Area wetlands restoration
$21.25 million to the San Francisco Bay Area Conservancy Program for the protection of coastal watersheds
$14 million to the Ocean Protection Trust Fund
$3 million for Los Gatos Creek and the Guadalupe River in San Jose
$3 million for the Russian River in Sonoma County
With this parks and water bond, voters are also being asked to invest in a wide range of projects across urban, suburban and rural California. Together, these investments aim to provide clean drinking water, flood and drought protection, climate resilience, and park access for all. This bond directs funding to protect our ocean, coastal and bay resources, and our rivers, creeks and streams. This is our green infrastructure, the backbone of healthy communities and a healthy economy.
Among these investments is:
$550 million for flood protection and repair
$100 million for water recycling including helping farms conserve water
$60 million to improve wildlife and fish passage
$20 million for coastal forests
We must continue to do what Californians have done since the first parks bond was approved by voters in 1928, preserving areas like Mount Diablo and Mount Tamalpais. This is an opportunity to ensure the investments that have been made in our world-class parks over the last 100 years are not lost, but enhanced. We can safeguard our children's future by stewarding the natural environment today. All park advocates must stand together in favor of better outdoor access and clean water for all.