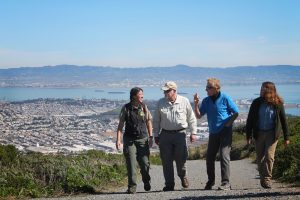 The San Mateo County Parks Foundation is one of the underwriters for season 4 of OpenRoad with Doug McConnell which airs Sundays at 6:30pm on NBC Bay Area. The Parks Foundation was able to pitch and help produce a segment on San Bruno Mountain that premiered on Sunday, April 8. San Bruno Mountain State and County Park is an island of biodiversity surrounded by urban development…and hidden in plain sight.
Home to three endangered and one threatened butterfly species, and fourteen species of rare and endangered plants, including six found nowhere else in the world, San Bruno Mountain is a very special place. The 2,416-acre park is surrounded by the cities of Daly City, South San Francisco, Brisbane and Colma.
Finding a good day to film was touch and go with our late winter rains, but we lucked out with an absolutely gorgeous day for filming. On hand to tell the story of the Mountain was Ramona Arechiga, San Mateo County Parks' Natural Resource Manager, Ariel Cherbowsky-Corkidi, Programs Manager at San Bruno Mountain Watch, and Doug Allshouse, a self-taught naturalist and volunteer with California Native Plant Society.
"Between the height, the rainfall and our fog, we have a perfect climate for so many different species to find a home here and thrive," says Ramona of the Mountain.
Watch the seven-minute video and learn more about San Bruno Mountain, that gem of a park in our shared backyard.