How does the world look through the eyes of Generation Z? After 18+ months of COVID, wildfires and wildfire smoke touching our San Mateo County community, and an increasing awareness of how climate change affects communities around the globe, it is undeniable that the world and how we operate in it has shifted significantly. This can be a lot to take in as you start high school and think about your role and responsibilities in a rapidly changing world. Read on for one such perspective.
by Charlotte Rosario
Oh, climate change. Hearing about hurricanes striking cities, unprecedented winter freezes, rivers vanishing into thin air, and raging wildfires is no longer shocking; climate change has become a normal aspect in our lives. It threatens the wildlife in our communities and our everyday lives but this shouldn't be the case. We must do something.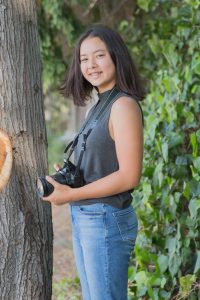 My name is Charlotte Rosario. I'm a 14-year-old resident of San Mateo County with a heart devoted to three things at the moment: photography, the environment, and our community. I am the creator of the Community Photobooth, a youth-led initiative on a mission to raise money and awareness for local nonprofits and important causes through photo shoots. Right now, my mission is to use my heart and my Nikon DSLR camera to fight the climate crisis.
It all started with the click of a shutter button.
Photography made sense to me. After discovering my family's old camera on a house-wide exploratory hunt, I knew it was meant to be. With one click of my camera, I could communicate my creativity and spread awareness like never before; photography became the voice I never had and gave me the closest thing to a superpower.
During the pandemic, my friends and I entertained ourselves with six-feet distanced photo shoots. We would use it as an excuse to dress up in something other than pajamas and pretend all was well in the world as my friends took pleasure in enduring silly poses and I would work myself into creative angles to capture the perfect photo. Seeing how much joy photo shoots brought my friends, I couldn't help but feel a longing to spread this excitement to others.
Soon, I graduated from just photographing my friends to the world that lay around me. With my camera dangling around my neck, I shimmied my way into the action of lionhearted protests, joined in on community volunteer events, and journeyed into our beautiful county parks to not only embark on thrilling adventures but to capture it all in photos. At the time, what I saw consistently in our world was struggle: overworked hospital staff struggling to keep up with the surge in Covid cases and victims of our California wildfires left impoverished; this was something I simply couldn't ignore. Without hesitation, I created my first ever Photoshoot-Fundraiser in the summer of 2020 and raised over $800 to provide lunches for First Responders at my local hospital and generously contributed to the Second Harvest Food Bank in Santa Cruz, which was an area devastated by wildfires at the time. I was invigorated by how photography could make a difference in my community, and I only wanted to do more.
From there the Community Photobooth was born.
I wanted to merge my two loves: photography and philanthropy. The Community Photobooth bloomed from my idea to gather neighborhood families together under similar interests: one being the desire to have beautiful family photos and the second giving back to the community. With my photography initiative, I've been able to support local nonprofits and even other parts of the country like the Texas Relief Warriors who helped provide support and supplies to disaster-stricken communities during the Winter Blackout Crisis. Now, the Community Photobooth is directing all eyes on the environment.
The second annual Photoshoot-Fundraiser to protect against wildfires
Green is a beautiful color, and it is a color we must protect. Living in San Mateo County, I feel so fortunate to have access to county parks lush with trees that touch the sky and an amalgam of wildlife to photograph on hikes with my family and marvel at on occasional jogs with my school's cross country team. But as San Mateo County recently issued a Red Flag Warning for potential fire danger and all Californians have been called upon to cut water use by 15% due to a second year of extreme drought, the threat of wildfires in our area becomes ever so probable. Fire season lasts a lot longer these years and our local wildlands face the risk of going up in flames, threatening neighboring communities.
This summer, I couldn't ignore the demands of our local environment. Preventing wildland fire as well as ensuring our forests and communities are resilient to climate change impacts is critically important. Using my photography, I want to do what I can to keep our community safe and raise awareness about our parks and open space. The goal of the 2021 Photoshoot-Fundraiser is to provide fire protection for San Mateo County wildlands, supply tools for our local park rangers to trim trees and remove potential fire fuel, protect wildlife, and advocate for environmental action around my community.
When people donate to this cause, in return, I give them an exclusive photo shoot for their family. I aim to raise $1,000 but, most importantly, my overarching goal is to heighten awareness about our environment and inspire participation in sustainable practices so that we can ensure a safer, cleaner, and healthier community for all of us to enjoy today, and for generations to come.
—
Oh, climate change. It is real and it is dangerous. It brings us wildfires and gives us droughts. But even though it has recently become a part of our lives, it doesn't mean there isn't hope. I believe that if we all work together; we can make our world a greener place.
Charlotte Rosario is rising into the 9th grade at The Nueva School this fall. She lives in Hillsborough with her family. She wrote this article for the San Mateo County Parks Foundation.
San Mateo County Parks Foundation's first ever photo contest wraps up August 15; submit your best photos today!