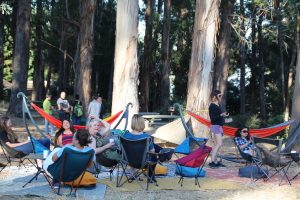 Our inaugural Coyote Nights summer social took place last Thursday evening at the Captain's House at Coyote Point. Thanks to all who came and made the first evening a memorable event! The San Mateo County Parks Foundation is hosting five more of these summer evening socials with our event partner, REI. Our goal: to connect more people to the parks
Are you new to San Mateo County, or curious about the parks? Are you interested in connecting with other park lovers? Or do you just want to enjoy a cold beer in our beautiful park by the bay, Coyote Point? If you said yes to any of this, then join us on Thursday, July 6 at 6pm for our next social! Devil's Canyon Brewing Company will be pouring their handcrafted beers
REI set the scene- a cool outdoor lounge complete with music, hammocks, DIY trail mix, a fire pit for making s'mores and a few 'trailheads' that offered additional information on how to make the most of your park outing adventure. Here are some of the highlights:
The 7 Leave No Trace Principles
Plan ahead and prepare
Travel and camp on durable surfaces
Dispose of waste properly
Leave what you find
Minimize campfire impacts (be careful with fire)
Respect wildlife
Be considerate of other visitors
The 10 Backpacking Essentials for Safety, Survival and Basic Comfort
Navigation (map, compass)
Sun Protection (sunscreen, hat)
Insulation (layers of clothing)
Illumination (headlamp, flashlight and batteries)
First Aid Supplies
Fire (matches)
Repair kit and tools (knife, duct tape)
Nutrition (extra food)
Hydration (water, water, water)
Emergency shelter
Our Top Hikes for Gorgeous Views in San Mateo County Parks
We'll be back on July 6 with more beer, music and park-related information; this time with a focus on the mental and physical benefits of spending time in nature. Join us!