San Mateo County Parks are slowly reopening May 4. As we responsibly enjoy nearby nature, please keep in mind the following:
Please stay home if you are sick
Maintain 6 feet of physical distance between you and others
Stay local

Turn around if the trail is crowded
Do not congregate at trailheads
Wash your hands
Be kind
When the shelter-in-place order went into effect and inessential travel curtailed, many people headed outdoors to discover and enjoy parks and trails new to them. Parks saw an exponential increase in visitors. Due to concerns about the spread of COVID-19, parks were closed to ensure people's health and safety.
Thankfully, parks will not remain closed forever. And when they do re-open, new visitors will be seeking their company. Long-time visitors will be hungry for their favorite trail again. Trails are meant to be shared and enjoyed. We have an opportunity to welcome new visitors with warmth and compassion. Not everyone is a seasoned hiker or equestrian. And you never know when someone is venturing into a park for the first time. That first visit should be a positive and memorable experience. We all have a role to play in that.
It is good to know the rules of the trail.
Follow these guidelines for an enjoyable outdoor excursion.
Stay on designated trails. Do not create your own trail or make shortcuts. This damages habitat and disturbs wildlife. It can also lead to erosion and encourage others to follow your new path. In more remote parks, going off trail can easily lead to one getting lost.
Leave no trace. Pack out what you pack in. Do not pick wildflowers and leave all rocks, vegetation, etc. where you find them. Definitely clean up after your dog. Be prepared and bring a waste bag with you. Pack out any dog waste and dispose of responsibly. Do not leave dog waste bags on the side of the trail for others to collect.
Share the trail and know your right of way. Ride, walk or run on the right, pass on the left. It is common courtesy to yield to users who have the right of way. Step aside to give people space and be mindful of where you are stepping.
Hikers going uphill have the right of way– When trying to pass a hiker in front of you, make your presence known in a friendly manner and say hello in passing.
Bicyclists yield to hikers and horses– Mountain bikers should call out as they ride down steep slopes or switchbacks and announce how many are in their group. Please go slower when around other trail users, especially children.
Runners and hikers yield to horses– Horses can get spooked, so avoid sneaking up on an equestrian or making loud noises. To let an equestrian pass, slowly step off on the downhill side of the trail. If coming up from behind, calmly state your presence and intention to pass.
Solo hikers should yield to large groups
Dogs and their humans should yield to other trail users– Owners must ensure their dog is calm and under voice control.
Pay attention to trail rules. Only a few parks or trails in the San Mateo County Park system are open to dogs or mountain bikes. Parks that allow dogs may require that they be leashed at all times. Sometimes, trails are closed due to erosion, fallen trees or other things that make passing safely not possible. Plan ahead by downloading a trail map.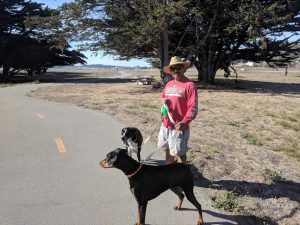 Be friendly and courteous toward everyone you encounter on the trail. Trails are shared and meant to be enjoyed. When coming across other trail users, a friendly hello goes a long way. This is especially true when you intend to pass a hiker in front of you. With more people discovering and enjoying our parks, we have many opportunities to practice friendliness and compassion toward our fellow trail users.
Be aware of your surroundings and respect wildlife. Parks are home to plants and animals. And trails are for everyone. Open your eyes and ears to all the glorious nature that surrounds you. Respect it and other park users by keeping noise from electronic devices reduced. To repeat, we are park visitors. Parks are home to plants and animals. Please do not disturb wildlife.
We are so lucky in the San Francisco Bay Area to have a multitude and diversity of parks and trails. Our shared backyard is large. And as the parks re-open they will welcome us with open arms. May we visit the parks with respect for the plants and animals that live there. May we welcome our fellow trail users with a smile. Thank you for your role in creating a positive outdoor experience for everyone.