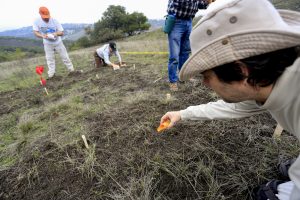 Over the last few months, the San Mateo County Parks Foundation has provided support to a variety of projects and programs in our beloved park system. This is thanks to the generosity of many. Whether one gives $5 or $25,000, it all adds up to a big impact. Thank you! You made the following list of deliverables happen and we are grateful.
Habitat Restoration
Edgewood County Park and Natural Preserve is widely known for its remarkable biological diversity. Thanks to its varied topography and rare, serpentine grasslands, more than 350 native plant species have been identified here. Two are found nowhere else in the world and are listed under the Endangered Species Act as threatened or endangered of extinction. These are the San Mateo thornmint (Acanthomintha duttonii) and white rayed-pentachaeta (Pentachaeta bellidiflora).
How are we helping?
The Parks Foundation supports the work of consulting biologists with Creekside Center for Earth Observation (CCEO) to advance the protection and recovery of the white-rayed pentachaeta.
We support and promote the good work of the Edgewood Weed Warriors, an all-volunteer group looking for more volunteers (maybe you?)
Volunteers
Volunteers are the guardian angels of our San Mateo County Parks system. Whether they are weeding, planting, leading hikes or patrolling trails, volunteers contribute significant expertise, time and good, hard work for the betterment of the parks.
How are we helping?
We seeded a new County Parks position, Volunteer Coordinator, which is held by Stu Smith. Stu runs the popular Stewardship Corps (among other things) which returns on Saturday, December 7.
By providing all the ingredients for successful volunteer work days: shovels, litter grabbers, buckets, TechNu, food, drink, training, hats, gloves and more!
Access
The San Mateo County Parks system is for everyone, but not everyone has equal access. A lack of awareness or transportation stops people from even arriving at our parks. Closed or unmarked trails can limit one's experience within a park.
How are we helping?
Helped re-open the West Brook Trail in Pescadero Creek County Park, which included installing a new bridge over Towne Creek.
Improving access within Sanchez Adobe by having ADA pathways installed.
Covering the park entrance fees for the low-income patients of the San Mateo County Health System.
Continuing to fund the bus transportation that takes students to our parks
Events
Perhaps one of the best ways to build community is to hold an event in a park.
How are we building community?
In partnership with REI Co-op, the Parks Foundation held the third annual Coyote Nights at Coyote Point summer series. We had paint and sip activities with park rangers, geocaching and a history walk, but the highlight by far was Kenny Elvin, Master Falconer and his amazing birds of prey!
Also in its third year, the Coyote Point Kite Festival saw over 1,000 people attend to watch the Berkeley Kite Wranglers' Giant Creature Kite Show and to fly kites of their own.
Interpretation
Educating park visitors about the cultural, historical and natural resources of our 22 San Mateo County Parks is key to nurturing life-long appreciation and stewardship of the parks. This can include trail signage, videos, newsletter articles and field back packs.
How have we been helping lately?
The Parks Foundation is providing funding to bring on a bilingual interpretive park intern who will complement current efforts of going into classrooms and talking to kids about parks. This position will help build new relationships with communities in East Palo Alto, North Fair Oaks, Pescadero and in north San Mateo County. Specifically, the intern will help in the creation of Spanish-language interpretive materials, educational programs and hikes.
Bikes!
While bike access remains limited within our county park system, the Parks Foundation does support bicycling as a wonderful way to get to county parks and to engage in some healthy physical exercise along one of our regional trails.
How are we helping?
The Parks Foundation continues to fund Bicycle Sunday, a year-round event held along Cañada Road between Highway 92 and Filoli.
Purchased 12 new bike fix-it stations which are being installed throughout our park system, such as on either end of Crystal Springs Regional Trail, at San Bruno Mountain and Devils Slide.
Purchased bike racks for the Coyote Point Marina.
Thank you for the role you have played in supporting our mission to inspire people to care for, learn about and enjoy San Mateo County Parks!