Nestled in the foothills of Pacifica, east of Linda Mar Beach is San Pedro Valley County Park. At just over 1,000 acres, this hidden gem boasts a diverse ecosystem laced with ten miles of hiking trails that range from easy to challenging. San Pedro Valley Park offers awesome, expansive views of the mountains, valley, ocean and town. The magic of microclimates is apparent here, as the coast can often be under a blanket of fog, while back in the valley, the sun is shining and the day is warm. This
park is perfect for hiking, trail-running, picnicking or just quiet contemplation.
If you seek an easy hike, check out Old Trout Farm Trail or Weiler Ranch Road. Hazelnut Trail is longer and more moderate. For those seeking a long, challenging hike, San Pedro Valley Park offers a trail connection to formidable Montara Mountain. Also known as McNee Ranch, Montara Mountain is part of Montara State Beach. The mountain is a northern spur of the Santa Cruz Mountains and features the only undisturbed coastal mountain habitat found over 100 miles of coastline.
The Park includes a visitor center that is open on the weekends, picnic areas that are shaded by oak and eucalyptus trees and clean restrooms.
Natural Features
No matter the weather, San Pedro Valley Park is a joy to be in. Hills and valleys can be shrouded in mist or exposed to full sun. Black-tailed deer may be seen grazing in meadows while a red-tailed hawk flies overhead. Three creeks flow year round through the valley, including the middle and south forks of San Pedro Creek which winds down from the north slope of Montara Mountain. Shady and cool, San Pedro Creek is an important steelhead trout spawning ground.
A notable feature is that San Pedro Valley is home to the only waterfall in a San Mateo County Park- but one has to really look for it! After a particularly heavy rainstorm, one should be able to see Brooks Falls, a seasonal waterfall found two-thirds of the way up Brooks Creek Trail. The headwaters of Brooks Creek flow as a multi-tiered waterfall that drops 175 feet into the lush valley below. The sound of the water is a lovely companion as you trek this side of the park.
San Pedro Valley Park is a great place to spot all kinds of wildlife, such as rabbit, quail, grey fox, gopher snakes, bobcats and great horned owls. Mountain lions roam the park and are occasionally (but very infrequently) spotted by hikers. Take note that dogs are not allowed at San Pedro Valley Park.
The Park's chaparral, grasslands and riparian habitats support a rich display of wildflowers, ferns and shrubs as well as some rare plants like Montara manzanita. Be on the lookout for California poppies, giant trillium, creek dogwood, fetid adder's tongue, poison oak and so much more.
Stroll along the Plaskon Nature Trail (behind the visitor center) for a close-up look at a riparian corridor. Interpretive signs inform visitors of the plant and animal life in the San Pedro Valley.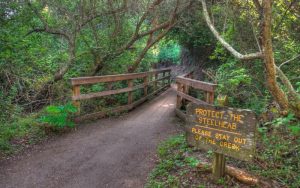 History
The San Pedro Valley was once home to the Ohlone Indian village of Pruristac. Artifacts from the Ohlone as well as from the Spanish and Mexican periods of California history are on display at nearby Sanchez Adobe.
Spanish Captain Gaspar de Portolá camped in the area in 1769 during the first land exploration of California. Most of the expedition's participants camped at San Pedro Valley Park while a small contingent ascended nearby Sweeney Ridge where they became the first Europeans to set eyes on San Francisco Bay.
In more recent history, two public trout farms operated in the park in the 1950s and 1960s until they were wiped out by floods. The land was acquired by the county in the 1970s and turned into a park in the 1980s. It was during this time that park rangers and volunteers conducted a major creek cleanup and pulled debris from the creek all the way to the ocean. Even concrete from a destroyed bridge had partially blocked the creek creating a major obstacle for fish.
This teamwork allowed steelhead to return from the sea each year to spawn. In 1983 it is estimated that only fifteen steelhead trout made it up the creek. A year after the cleanup, 80 made it up the creek. Three years later, it was 300 steelhead trout. Check out this video from 2019.