Quarry Park is a hidden gem in the village of El Granada just 4 miles north of downtown Half Moon Bay. The 517-acre park includes a children's play area, picnic tables, and barbeques. It also boasts an active community garden, a hidden pond and a quarry floor labyrinth.
There is plenty of elevation for hikers to get their heart rate up as well as loops for easier walking. Dogs are allowed on trails as long as they are leashed. They are not allowed in the play area. Mountain bikers also enjoy the single track trails within Quarry Park, making this one of the San Mateo County Parks that truly offers something for everyone.
The San Mateo County Parks Department and Cal Fire have done extensive work recently to lower wildfire risks in the park and surrounding neighborhoods. They have thinned the eucalyptus and made better fire breaks.
Natural Features
Visitors walk through a meadow and then enter a magical eucalyptus forest. Hike through the quarry floor then up the trail for a spectacular view of Pillar Point Harbor and down the coast towards Pescadero. Although dominated by eucalyptus trees and other invasive plant species such as broom and cape ivy, one can find natives like thimbleberry, sticky monkey and coffeeberry bushes. There are also dawn and coast redwoods as well as pine and cypress groves. A piercing cry from a red-tail hawk is often heard while black-eyed juncos hop through the brush. Deer, coyotes and mountain lions also are visitors to the park.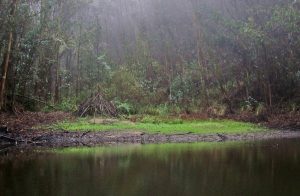 History
Daniel Burnham, the city planner of Chicago, designed the town of El Granada in the early 20th century. He designed the park property to be for recreation although it ended up being used for cattle grazing. Later, it was used as a quarry providing rock to build Highway 1 and runways for the Half Moon Bay Airport. The eucalyptus trees were planted as a logging operation that failed as eucalyptus trees are twisty and make poor lumber.
In 1995, San Mateo purchased the lower part of the park. It was managed by a local non-profit until 2013. The Wicklow property, which is the upper portion of the park, was officially added in 2014. Quarry Park is a great place to enjoy all the wonders nature has to offer.