Just south of the community of La Honda nestled in the Santa Cruz Mountains is Pescadero Creek County Park. At 5,860 acres, Pescadero Creek is the largest park in the San Mateo County Park system, but one of the least visited. It offers 26 miles of wooded hiking trails, incredible, sweeping views of mostly second growth redwood trees and the calming ripple of Pescadero Creek, which runs throughout the year, on its way to the Pacific Ocean.
One can easily hike into Pescadero Creek from neighboring county parks, Memorial and Sam McDonald. Equestrians often stay at the Jack Brook Horse Camp in Sam McDonald Park and ride in. The park shares its eastern boundary with Portola Redwoods State Park and it is possible to hike into Big Basin Redwoods State Park via the Basin Trail Easement at the park's southeastern corner. In fact, Pescadero Creek is a great park for hikers who really want to go the distance!
Cyclists can use Old Haul Road, Baker Fire Road and Camp Pomponio Road. There are two primitive hike-in trail camps, Shaw Flat and Tarwater. A permit, acquired at Memorial Park's ranger station, is required.
Natural Features
Pescadero Creek Park was heavily logged, so what one sees is a mix of dense second-growth forest and some stands of virgin coast redwoods. It is typical to see a circle of young redwood trees with an old-growth redwood stump in the middle. This is known as a fairy ring. The park is home to a diversity of trees including coast redwood, towering Douglas-fir, Santa Cruz cypress, big leaf maple, coast live oak and more. In the springtime, expect to see many colorful wildflowers such as wild azaleas, trillium and orchids. Because the tree cover is so dense in some areas, the shady ground sprouts thousands of varieties of mushrooms.
Pescadero Creek Park is home to all sorts of wildlife. There is the more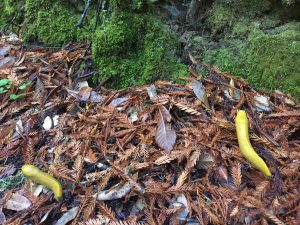 easily seen black-tailed deer and squirrel to the occasional sighting of a coyote and then the rare and endangered marbled murrelet, a mysterious seabird that likes to nest high in trees in old-growth forests. One creature that you are surely to come across is the bright yellow banana slug slowly making its way along the damp forest trail.
Pescadero Creek flows through the park, fed by multiple tributaries, before draining an 80 square mile watershed into Pescadero Marsh and the Pacific Ocean. Historically, there was an abundance of coho salmon and steelhead trout in Pescadero Creek; but today, coho salmon are critically endangered, and while it is one of the largest remaining runs of steelhead within the San Francisco Bay region, this fish is threatened as well. Fishing is completely prohibited on these grounds.
History

For over 100 years prior to becoming a county park, Pescadero Creek was heavily logged, with the most damage being done by clear-cutting between 1920 and 1950.  Even when the County purchased the land in 1968, Santa Cruz Lumber Company retained the cutting rights of large trees.
The County's original plan for this acreage was to construct a 400-foot high dam that would create a huge reservoir as a way to provide flood control and water to coastal residents. However, the impact to the forest and the concern of too much
development on the coast outraged many groups, from environmentalists all the way to the State of California. The dam idea died which made way for a new county park instead.
But the County still had to contend with Santa Cruz Lumber which continued to log the area until 1971. With limited funds, County Parks Director, Ralph Shaw drove through the forest tagging redwood groves he wanted preserved. Each tree had to be purchased individually.
One interesting piece of local history involves the now defunct Sheriff's Honor Camp, which took over an old Boy Scout campground, in the middle of Pescadero Creek County Park. The minimum security facility housed prisoners who helped clear the land for the lumber company. The Camp's most famous prisoner was Ken Kesey, author of One Flew Over the Cuckoo's Nest, who was sentenced to Honor Camp for six months. He described it as "a health spa with cops". The Honor Camp was closed in 2003 due to budget cutbacks.