The Crystal Springs Regional Trail is a beloved, multi-purpose, linear trail that, when completed, will span 17.5 miles. Fifteen miles of the trail are complete, starting in the north in San Bruno and ending in the south at Raymundo Road which provides access to Huddart Park in Woodside. Joggers, walkers, families with strollers, cyclists and equestrians all love to recreate on this trail and enjoy the fresh air and peaceful, scenic views.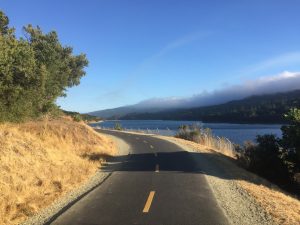 The Trail separates the urban bayside of San Mateo County from the wild and mostly untouched 23,000-acre Peninsula Watershed. Watershed land is owned and managed by the San Francisco Public Utilities Commission (SFPUC) and is designated a State Fish and Game Refuge.
Multiple access points are provided along the Trail which consistently runs to the west of Highway 280. Crystal Springs Regional Trail is divided into three segments and each segment has notable features:
San Andreas is the northernmost segment and 2.6 miles long. Its northern end can be accessed from Skyline Blvd at San Bruno Avenue. Part of this trail is unpaved. One can enjoy glorious views of San Andreas Lake for the entirety of this walk.
Sawyer Camp is by far the most popular segment of the three and picks up where San Andreas leaves off at Hillcrest Boulevard in Millbrae. It is a 6-mile long paved trail that offers incredible views of Crystal Springs Reservoir. Along the way are plenty of shady spots as well as the Jepson Laurel, the State's largest and oldest California laurel tree, established to be over 600 years old. At the end of this segment, you can walk across the long-awaited Crystal Springs Dam Bridge which opened in January 2019.
Crystal Springs is the southernmost segment and is approximately 6.7 miles beginning near Highway 92. This segment is not paved. Here you will enjoy views of Upper Crystal Springs Reservoir before cruising past the Pulgas Water Temple, Filoli and Edgewood Park and Natural Preserve. After this point, the trail veers to the west where one can connect into Huddart Park. This segment is adjacent to Bicycle Sunday, the weekly car-free event that takes place along Cañada Road.
Natural Features
Everywhere you look, brilliant shades of blue and green play off each other. On a clear day, the blue sky and water make the greens of old-growth Douglas fir, oak and bay trees really pop. The Trail takes you through several different habitats ranging from serpentine grasslands to coastal scrub.
Animals frequently seen along the path include squirrels, deer and coyote, as well as the occasional rattlesnake, bobcat or mountain lion. The Trail provides habitat for several rare, threatened and endangered species, such as the San Francisco garter snake. In 2012, a pair of bald eagles built a nest near the reservoir making it the first nesting pair in San Mateo County since 1915. Since then, the eagles have been back every year and have successfully fledged offspring.
Crystal Springs Reservoir and San Andreas Lake fill a valley that was formed by the San Andreas Fault. Two dams hold back water that is collected from the surrounding watershed as well as from snowmelt captured at Hetch Hetchy Reservoir in Yosemite National Park. This water arrives in San Mateo County at the spot where the City of San Francisco built the Pulgas Water Temple as a monument to this engineering feat.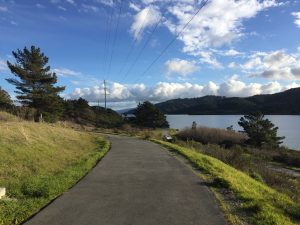 History
In November 1769, Gaspar de Portola and his men descended Sweeney Ridge after viewing San Francisco Bay for the first time. They camped in the area that is now filled with the waters of San Andreas Lake.
Leander Sawyer purchased land in the area in 1853 and soon built a house, a barn and an inn that served visitors. The area became known as Sawyer Camp. No trace of it remains today. The inn was eventually flooded when the dam was constructed.
The Spring Valley Water Company built the concrete dam at Crystal Springs between 1888 and 1890. The sand that was mixed with cement to construct the dam was brought by ship from the beaches of San Francisco to Coyote Point Pier. From there, six-horse teams would cart the sand across San Mateo and up winding, unpaved Crystal Springs Road to the construction site.
Sawyer Camp Trail was once part of the stagecoach route between San Francisco and Half Moon Bay. Eventually, it morphed into an unpaved county road, open to automobiles and notorious for being a place where kids would go to party. The sheriff wanted this headache of a road closed. The road was threatened with destruction in the 1970s when Caltrans was busy building Highway 280. Parks superintendent Bob Emert engaged in difficult negotiations in order to preserve the road as a trail that was open to everything but vehicles. This concept was met with skepticism by San Mateo's daily newspaper which doubted that anyone would go way out there to enjoy a trail. Today, approximately 325,000 people use the trail each year.
Excerpts from San Mateo County Parks: A Remarkable Story of Extraordinary Places and the People who Built Them, by Michael Svanevik and Shirley Burgett. Copies available for purchase from San Mateo County Parks Foundation.