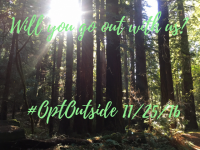 You may remember that REI did something different on Black Friday last year—they closed the co-op's doors and invited the nation to opt outside with them. And more than a million people did just that. This year on Black Friday, we're going to join REI outside, and we'd like you to opt outside with us. Let's skip the malls and celebrate life outdoors. You can: Look for the peregrine falcons at Devil's Slide Go for a sunset walk along the California Coastal Trail at Mirada Surf Count the banana slugs along the Pomponio Trail at Memorial County Park Ride your bike along the Bay Trail and watch the planes land at SFO at Coyote Point Grab the bench with an ocean view at San Pedro Valley Park and breathe deeply! To learn more, visit the REI OptOutside site.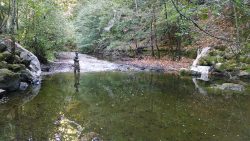 "From saving redwoods almost a century ago to saving salmon and steelhead today, Memorial Park is a special place in the history of conservation." –Marlene Finley, San Mateo County Parks Director There are 20 parks and over 190 miles of local and regional trails in the San Mateo County Park system we all know and love today. But it all started with one: Memorial County Park, protected and dedicated in 1924, and named in honor of San Mateo County residents who died in the line of duty during World War I. It was a prescient move to save these old-growth redwoods from the lumber mill and preserve them as a park. Memorial County Park has been a popular spot for hiking and camping for nearly a century, offering a peaceful respite from the hustle and bustle of daily life. Now, efforts are focused on saving endangered and threatened species that have long called the park, and the creeks within it, home. Pescadero Creek, with its sources in the Santa Cruz Mountains, flows through Memorial Park before draining an 80 square mile watershed into Pescadero Marsh and the Pacific Ocean. Historically, there was an abundance of coho salmon and steelhead trout…
SUBSCRIBE TO STAY INFORMED

SAN MATEO COUNTY PARKS FOUNDATION
General Information
The San Mateo County Parks Foundation was established in 1998 to provide additional financial support for the recreational, environmental and educational programs and projects of the San Mateo County Department of Parks. The Foundation is governed by a volunteer board of directors and has a small staff.
The Foundation seeks grants and contributions from individuals, foundations and businesses. Recognition of gifts is done in accordance with the county's approved donor recognition guidelines. The Foundation does not manage the projects directly. The San Mateo County Department of Parks is responsible for the design, permitting, contracting and maintenance of the projects.
Mission Statement
The San Mateo County Parks Foundation inspires people to care for, learn about and enjoy our parks.
Land Acknowledgement
The San Mateo County Parks Foundation's office is located on the ancestral homeland of the Ramaytush and Muwekma Ohlone peoples, the original inhabitants and land stewards of the San Francisco Peninsula. As guests, we recognize that we benefit from living, working and recreating here on their traditional homeland. We wish to pay our respects by acknowledging the ancestors, elders and future generations of caretakers of the Ohlone people.
Fundraising Priorities and Current Goals
In partnership with the San Mateo County Department of Parks, the Foundation raises funds to support projects, programs and volunteers for benefit parks and visitors.
We are committed to conserving and improving the quality of our county parks for current and future generations to enjoy.