Maintaining trails and bridges is an ongoing effort in any park system. The San Mateo County Parks Foundation is committed to ensuring park visitors are able to access parks in a safe and enjoyable manner. This can mean new trail signs, re-routing washed out trails and replacing bridges.
Trail Signs
The Parks Foundation funded new trail signs throughout the San Mateo County Parks system. The signs offer more information in terms of distance to the next trailhead, trail difficulty and nearby points of interest. In addition, each sign is numbered which corresponds to a number on your park map so one can easily identify where they are in that park.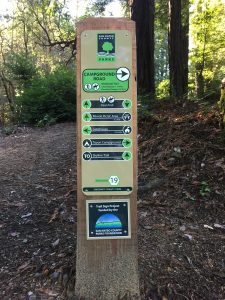 Alambique Trail, Wunderlich Park

Volunteers and park rangers do an excellent job of keeping trails open, but sometimes after a winter storm, trail damage can be so extensive that the old trail is retired and a new trail is designed. This was the case in Wunderlich Park with the Alambique Trail. This popular equestrian route was not passable for over a year. The Parks Foundation provided financial support to re-open this critical link.
Towne Creek Bridge, Pescadero Creek Park

Erosion can weaken bridges which was the case with the bridge over Towne Creek in Pescadero Creek County Park. The West Brook Trail, a popular trail for hikers and equestrians, was out of commission until volunteers came together to design a new bridge and install it during the summer of 2019. The volunteers put in over 600 hours of labor and the Foundation raised part of the money needed for materials to build the new bridge. Now, equestrians staying at the Jack Brook Horse Camp in Sam McDonald Park can ride down into Pescadero Creek.