Memorial Park, beloved by generations of local families, turns 100 in 2024. Named for the San Mateo County men who lost their lives during World War I, this special place first had to be saved from logging before it could become a park – the first park in the San Mateo County Parks system.
Since Memorial Park's dedication on July 4, 1924, when all 300 campsites were full, many friends and families have come to this special place to camp, hike, picnic, play in the creek and relax among the redwoods.
As a result, Memorial Park is showing its age. A little love and attention will get this park spruced up for its next 100 years. The San Mateo County Parks Department has been making significant infrastructure investments to Memorial Park, including installing a new water treatment plant and a new wastewater treatment plant.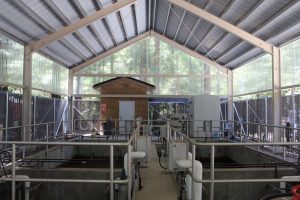 The San Mateo County Parks Foundation is complementing these investments with improvements aimed at the visitor experience. The goal is to create a warm and welcoming ranger station, engage visitors with a revamped nature center and honor the history and tradition of Memorial Park.
Over the past few years, improvements have been completed, including energy efficient upgrades to the ranger station such as new double-paned windows and recessed LED lighting. A custom-made redwood countertop and warm coat of paint welcomes visitors. The ranger station restrooms have been completely redone with new low-flow plumbing fixtures and accessibility improvements.
Additionally, the Parks Foundation purchased redwood lumber for picnic tables and barbecue grills for campsites at Memorial Park. Stay tuned for more improvements to come!
Do you have fond memories of camping and picnicking at Memorial Park? If yes, the Parks Foundation wants to hear from you! We are collecting visitors' sweet and playful memories in advance of the 100th anniversary. Please reach out to Michele at Michele@SupportParks.org to share a memory.