In the fall of 2021, the San Mateo County Parks Foundation created a new small grants program called Enhancing Equitable Access. The goal is to fund and support organizations that increase opportunities for Black, Indigenous and people of color, and low-income and marginalized youth and their families to enjoy the many benefits of being in parks and nature.
In our inaugural round of grants, each grantee was awarded $3,000. Learn about these outstanding organizations which are expanding access to our parks, trails and coastal areas for those who may face barriers, including a lack of transportation, a lack of representation and/or a lack of awareness about the parks themselves.
Brown Girl Surf
Mission: to build a more diverse, environmentally reverent, and joyful women's, girl's and gender expansive surf culture by increasing access to surfing, cultivating community, amplifying the voices of surfers of color and taking care of the earth.
More specifically, Brown Girl Surf aims to create this culture by:
Creating access to surfing and to the ocean, by providing logistical, financial and cultural support through programming. This includes outings to spots along our San Mateo County coast like Mirada Surf, which the Foundation is supporting with this grant.
Building community through their surf clinics, on-land events and celebrations.
Amplifying the voices of women of color surfers through culture creation, storytelling and advocacy around environmental justice and conservation.
Cultivating a sense of interconnectedness and care for the earth, both on an emotional level, and through the actions taken to protect it.
Learn more about Brown Girl Surf.
Girls to Women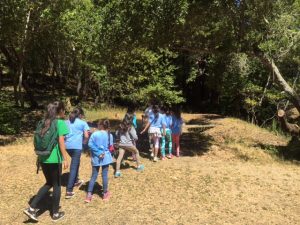 Mission: Dedicated to supporting girls as they design their futures for successful womanhood.
Girls to Women opened its doors in 2007, responding to East Palo Alto parents' call for a locally-oriented program for their daughters. They currently serve 35 low-income girls ages 6-14 and their families with a broad-spectrum, multicultural program, inclusive-of: the arts; fitness and health; nature, gardening and outdoors; information technology and STEM; academic support; multiculturalism and leadership development. Recent program offerings include creative writing, cultivating a mindfulness practice, becoming familiar with your local library and Makinu! African dance.
Girls to Women has a monthly 'Family Outings' activity program during the school year and a summer session that includes weekly trips to local parks, like Huddart Park. Parks Foundation funding will support Girls to Women field trips to San Mateo County Parks.
Learn more about Girls to Women.
Siena Youth Center
Mission: To provide the opportunity for families living in North Fair Oaks and surrounding communities to live with dignity while accessing essential services and becoming self-sufficient members of the community.
The Siena Youth Center is a cherished non-profit program of the St. Francis Center whose focus is on offering youth in North Fair Oaks and Redwood City a positive, safe, happy place to become or stay healthy, to interact with others in the community, to receive mentorship and to provide leadership.
Their programs include the North Fair Oaks Youth Initiative, which provides mentorship and tools to empower youth to use their voices to make a positive change in their community. Their advocacy led to the inclusion of a pump track in the Reimagine Flood Park Landscape Plan! The Siena Youth Center also runs Trips for Kids Bulldog Riders, where bicycles are a vehicle for lessons in confidence building, achievement, health and environmental awareness. They take youth on mountain biking trips all over the Bay Area, help advocate for more open space in the community, and have hosted a bike rodeo at Flood Park. Parks Foundation funding will support field and camping trips to San Mateo County Parks.
Learn more about the Siena Youth Center.
We look forward to expanding the Enhancing Equitable Access Grant program in the fall of 2022.