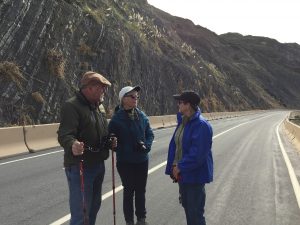 Volunteering is a wonderful way to care for your community, meet new people, learn new things and feel connected to the world around you. Volunteering in the parks has the added perk of being outdoors, in some of our most scenic spots throughout San Mateo County.
Here are our top ten ways you can volunteer in San Mateo County Parks. No matter where you are in San Mateo County, there is a nearby park needing some love and attention from you.
Become an Edgewood Park Weed Warrior
The Edgewood Weed Warriors operate under a permit issued to the California Native Plant Society. They meet regularly to remove invasive plants at Edgewood Park and Natural Preserve, which allows for those beautiful wildflower displays that everyone enjoys. This 30-year restoration project has had phenomenal success, and can always benefit from new volunteers. The weeding schedule offers plenty of times for you to get involved.
Similar opportunities are available at San Bruno Mountain and San Pedro Valley Park.
Join the San Mateo County Parks Stewardship Corps
Volunteers and park staff work together at different locations each week to restore native habitat and beautify our San Mateo County Parks. Come explore the parks while lending a hand with removing invasive plants, planting native plants, and collecting seeds. Events happen most Saturdays between December and May. Learn more from San Mateo County Parks.
Work at the Mission Blue Nursery
Cultivate the flora of San Bruno Mountain by volunteering at the Mission Blue Native Plant Nursery. A program of San Bruno Mountain Watch, volunteers assist with plant propagation and maintenance, tend the native plant demonstration garden, process seeds and more. A regular drop-in volunteer program happens on Wednesdays from 10am to 12:30pm. See the schedule here.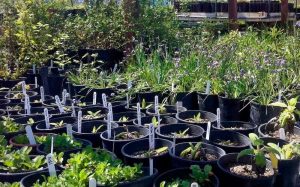 Keep Tunitas Creek Beach Clean!
Volunteer with the TLC Locals on 4th Sundays March through November. Tunitas Creek Beach is the newest addition to the San Mateo County Parks system and is being improved in order to provide safe public access to the beach. In the meantime, beach clean ups help protect the natural habitat and allow this lovely ribbon of coastline to shine.
Restore trails at San Pedro Valley Park
On the second Saturday of each month, volunteers help maintain trails and nearby habitat with San Mateo County park rangers at this park nestled in the foothills of Pacifica. Gloves and tools are provided but make sure to bring plenty of water and wear sunscreen. Details here.
Volunteer at Coyote Nights over the summer
For four evenings over the course of the summer, the San Mateo County Parks Foundation, in partnership with REI, hosts Coyote Nights at Coyote Point. Volunteer to help with setting up the outdoor lounge, registering attendees or leading an activity. Email Michele@SupportParks.org to learn more.
Sign up to be a nature hike docent
The Friends of Huddart and Wunderlich Parks' hiking program serves more than 900 K-4th grade students each year. Docents guide students on a 1 to 3-mile hike, leading them through the various ecosystems and exploring the local flora and fauna, talking about Ohlone culture and local history. Does this interest you? If yes, you may want to learn more about becoming a docent.
Similar opportunities exist with the Friends of Edgewood.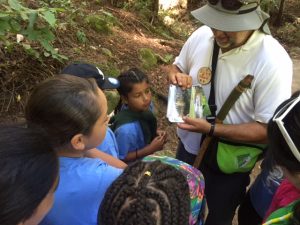 Patrol the trails!
If you love to hike and keep an eye on the parks, then maybe it is time to consider becoming a member of the trail patrol. The commitment is one patrol per month and you will receive training and a uniform. The role involves reporting trail conditions to park rangers and answering visitors' questions. If you have a horse, you can also look into San Mateo County Parks' Volunteer Horse Patrol.
Volunteer with the Trail Center
This all-volunteer trail building, maintenance and repair organization can always benefit from more volunteers working out on the trail.  Other skills, like photography and writing, are also desired! Volunteers work in parks up and down the Peninsula, from San Francisco to San Jose. Here is their schedule of upcoming events.
Be a Bill and Jean Lane Education Center host
Are you enthusiastic about nature?  Comfortable talking to people? Responsible and reliable?  Help the Friends of Edgewood keep the Bill and Jean Lane Ed Center open for visitors.  Being a host is easy and fun! Each volunteer staffs the Center for 3.5 hours once per month, or as much as once per week, throughout the year on Wednesdays, Saturdays and Sundays.
Did something catch your attention? Do follow up! There are so many ways you can have fun while volunteering in a San Mateo County Park.