Our parks offer much in the way of fun discoveries- rare plants and butterflies, seasonal waterfalls and lots of birds; imaginative playgrounds, surprising vistas and neck-straining redwood trees. Some are nature's gifts and others are man-made, but when one comes across something rare, unexpected or curious, it feels like a treat.
There are hundreds of cool things to discover in your San Mateo County Parks. This list is the tip of the iceberg.
Click here to see a list of all San Mateo County Parks that are currently open.
Sam McDonald Park: Sam's cabin, Chee-chee-wa-wa – In 1917, Sam acquired a home-site in the steep redwoods near La Honda. There, "among the lords of the forest," he built himself a humble retreat along Alpine Creek for prayer, meditation and reflection. You can still see this log lodge, which Sam called Chee-chee-wa-wa ('little squirrel') at the end of Uncle Man Road.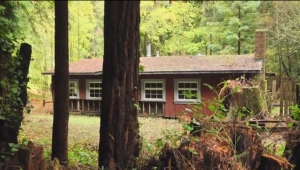 San Pedro Valley Park: Brooks Falls – Two-thirds of the way up Brooks Creek Trail, one will come across a bench that looks out across a canyon to the northern slope of Montara Mountain. After a heavy rainstorm, it is especially cool to see the headwaters of Brooks Creek flowing as a multi-tiered waterfall that drops 175 feet into the lush valley below.
Fitzgerald Marine Reserve: Stairs to Seal Cove – A 160-foot bluff-to-beach staircase provides access to Seal Cove's tide pools where at low tide, the reef is exposed with various marine life. This marine protected area provides habitat to federally protected species like the harbor seals often seen basking north of the stairway.
Crystal Springs Regional Trail: Pulgas Water Temple – At this trail's southern end, one will discover the Pulgas Water Temple which was built by the City of San Francisco in 1934 as a monument to the engineering feat that brought Hetch Hetchy water to the Bay Area from the Sierra Nevada Mountains. Designed in the Beaux Arts style, the Pulgas Water Temple stands beside a tree-lined reflecting pool.
Pillar Point Marsh: Night Herons – A walk along the marsh at Pillar Point is a great way to see many birds as the area provides essential habitat for shorebirds and waterfowl during migration. Night herons roost in trees nearby. Great blue herons, egrets, ducks, and geese are some of the birds you will find in the marsh with various raptors hunting overhead.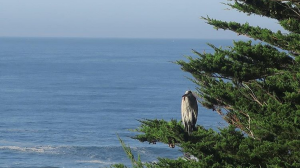 Quarry Park: the labyrinth – Installed on World Labyrinth Day in 2012, this labyrinth was built as a 7-Circuit Petite Chartres, but has evolved over time. To find this labyrinth on the quarry floor bathed in sunlight is a real treat.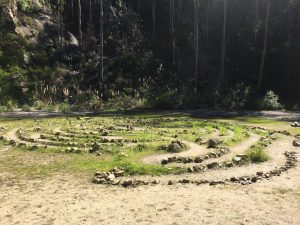 Sam McDonald Park: The Heritage Grove – From a small parking lot off Alpine Road, one will find a trail that crosses the creek to a 37-acre grove of ancient redwoods and continues through a pretty second-growth cathedral forest.
Huddart Park: Kings Mountain Archery Range – Nestled on the eastern slopes of a small mountain range within Huddart County Park, this Archery Range features a field course of 28 targets. Canyon walls and slopes provide a safe and soft natural backstop.
Devil's Slide: rock with Common Murres – Looking out from Devil's Slide, one will see a small sea stack with lots of Common Murres atop it. This is Devil's Slide Rock and you are looking at a success story. In the late 1980s, this bird colony was wiped out due to human activity. A restoration project installed in 1996 featured decoys, three-sided mirror boxes, and CD players projecting amplified Murre calls to lure the birds back. In 2005, these were removed to make room for the growing colony and by 2014, it is back to its pre-oil spill numbers.
Junipero Serra Park: the double slide – Higher up in the park is Meadow View Playground which features spectacular 54-foot-long double slides offering a bird's eye view of landings and take-offs at San Francisco International Airport. As one Yelp reviewer stated, "The big slide is the best rush you can get without having to go to an amusement park."