Traffic congestion is intense, people are getting into holiday mode and things continue to open up. Lots of things on your "to-do" list? Here's one more to bump to the top: take some time for yourself and slow down in nature. Return refreshed and clear-headed. Here are our top 5 ways to do just that!
Take a mindful walk and enjoy the cool, ocean breeze along the gently graded Cowell-Purisima Trail just south of Half Moon Bay.
Come at falling high tide to the Coyote Point Marina and enjoy the variety of shorebirds resting along the bay shoreline. This is "one of the finest shorebird roosts in San Mateo County" according to Sequoia Audubon.
Huddart Park is an easily accessible mid-week escape offering miles of forested trails and a chance to hear the healing sound of water flowing again in creeks.
Slow down and appreciate a magical sunset from Devil's Slide Trail.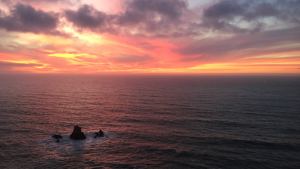 Start your day early with a morning walk through the foggy Cypress grove at Fitzgerald Marine Reserve.
Please note that one of our favorite ways to unwind in nature is to walk amongst the redwoods after a heavy rain. However, Pescadero Creek, Memorial Park and Sam McDonald Park are all closed due to this weekend's storm. The rains prompted a County Evacuation Order and the parks will reopen following a full evaluation for potential hazards.
Now share with us: What is your favorite way to slow down in nature?