by Adriana Fernandez Arriaga
In the fall of 2021, the San Mateo County Parks Foundation created a new small grants program called Enhancing Equitable Access. The goal is to fund and support organizations that increase opportunities for people of color and low-income youth and their families to enjoy the many benefits of being in parks and around nature.
In the fall of 2022, the Foundation awarded grants to five organizations in south and coastal San Mateo County. In an effort to better reach organizations in the northern part of the county, a spring grant program was opened up and nonprofits were invited to apply. We are pleased to announce the three outstanding organizations that were awarded grants of $4,000 each. Read on to learn more about how each is expanding access to our parks, trails, and coastal areas for those who face barriers, such as a lack of transportation or an awareness about the parks themselves.
Rise South City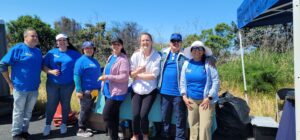 Mission: Committed to creating dialogues with our frontline communities about climate change and social equity issues and to learn about the different intersectional systems that underpin it and help develop local solutions for transformational reform. We promote community resilience, economic equity, and climate stability. 
Rise South City was created in 2021 in response to environmental injustices and the lack of inclusion of frontline communities in shaping South San Francisco's climate response. They are a part of many environmental coalitions including the Colma Creek Restoration and Adaptation Project and the San Mateo County Community Climate Action Team. Through this grant, they are planning to hold field trips to Junipero Serra County Park, Devil's Slide, Edgewood Park and Natural Preserve, and San Bruno Mountain for low-income and very low-income families in South San Francisco. This will allow the families to see the richness of their local area, learn about the importance of preserving nature and become more involved with local projects and planning around climate change.
Learn more about Rise South City.
South San Francisco Education Foundation
Mission: To support and enhance public education in the South San Francisco Unified School District. Our four core values are Student First, Equity, Community, and Integrity.
The South San Francisco Education Foundation was founded in 2022 to support students, advance equity, and build community leaders. Through this grant, they will take Baden High School students on field trips to county parks, invite guest speakers from San Mateo County Parks to Baden High School, and provide a free day parking pass for every student. This continuation high school provides smaller, personalized education to students uncomfortable in large classroom settings or whose learning style, personality, needs, or interests have gone unmet within the framework of traditional high school structures. They have around 111 students, with 80-85% being Hispanic/ Latino and over 50% being low-income. Many of the students also work part-time to help their families and have not been on a school field trip for many years.
Learn more about the South San Francisco Education Foundation.
Exploring New Horizons Outdoor Schools
Mission: Empower students, build environmental literacy, and strengthen school communities through 3 to 5-day residential outdoor education programs. 
Exploring New Horizons was founded in 1979 to fill in the gaps for outdoor education opportunities. They engage over 7,000 students from the San Francisco and Monterey bay regions in hands-on learning in environmental stewardship, social-emotional learning, health, and the arts through their Sempervirens and Pigeon Point site program which operates from September to June. Through this grant, they will engage more low-income San Francisco and Monterey bay region students in a three-day program at Pigeon Point, exploring the redwood forest at Memorial County Park. 
Learn more about Exploring New Horizons Outdoor Schools.