The San Mateo County Parks Foundation kicked off our first Latino Conservation Week event, Caminata en la Naturaleza y Tacos at Edgewood County Park and Natural Preserve, on Saturday, July 15, 2023, in collaboration with the Hispanic Access Foundation, San Mateo County Parks, Friends of Edgewood, Redwood City Together, and San Mateo County Health. Latino Conservation Week (LCW) is an initiative of the Hispanic Access Foundation and has a goal of engaging and shining a spotlight on the Latino/e community's strong conservation values. LCW provides an opportunity for the Latino/e community to enjoy the outdoors while learning how to protect our natural resources. This year, Latino Conservation Week was from Saturday, July 15th through Sunday, July 23rd with events happening nationwide. Since this was the first time the Parks Foundation hosted an event for LCW, we decided to pitch the opportunity at the North Fair Oaks Children's Collaborative for Community Success Neighborhood Action Team (CCCSNAT) meeting. We were seeking a local organization that served people who had yet to experience their first field trip to a San Mateo County Park. After presenting to CCCSNAT, we received a request from Upward Scholars. 
Upward Scholars is a nonprofit organization with a mission to provide adult immigrants the boost they need to move up the economic ladder through education and career development support. We had 28 students participate in Caminata en la Naturaleza y Tacos. For many, this was their first time at Edgewood Park and Natural Preserve and for all, it was their first time participating in a Latino Conservation Week event. We also had San Mateo County Supervisor for District 2, Noelia Corzo, attend the event along with her staff, Christina Falla, and Christina's two children. 
Our day started with a welcome by San Mateo County Parks Foundation's Program Coordinator, Adriana Arriaga, followed by an icebreaker led by Redwood City Together. Then, docents from the Friends of Edgewood and park rangers from San Mateo County Parks' interpretive team each led a nearly two-hour nature walk. The docents led a moderate hike into the Preserve itself while the interpretive team led a short walk to the native plant garden and around the Bill and Jean Lane Education Center. This group also played nature loteria and spent time observing the nature around them. Everyone came back to our picnic site excited about all they had seen and learned. They were also hungry for lunch. We had a local food vendor, Daniel's Kitchen, provide us with delicious tacos. 
To wrap up the day, we had a closing circle where everyone had the opportunity to share one thing they learned. One student shared, "I was very happy to be able to go on the walk. It was very interesting because I was able to meet many people and learn from nature. The taquitos were also delicious, especially the cauliflower ones! I look forward to attending future events. Many thanks to the entire program for making this possible." The group shared that they learned Edgewood is a preserve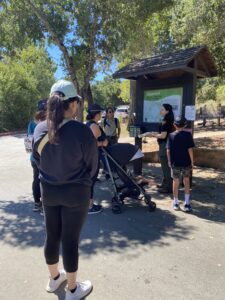 they can hike with their families. Some said they learned how to read the trails on the park's map. A student shared, "My experience was unforgettable because it was my first time visiting this park. We learned about the importance of taking care of the naturaleza." For many, this was their first time being together in person since the pandemic. Another student stated, "We had the opportunity to learn, play, eat delicious tacos, and enjoy a nature walk with our families. It was great because we don't always have or take the time to enjoy nature or experiences like these." Overall, they had an amazing time and are excited to visit the park again with their families, which is the goal of Latino Conservation Week and all participating partners.