Need to stretch those legs? Looking for a good, solid hike with breathtaking views as your reward? One of our favorite hikes is at our north county gem of a park, San Bruno Mountain. Go for a solo hike, breathe in some fresh air, identify the landmarks below you and please keep your distance from fellow hikers and runners. Nature has the power to heal. But, if you are sick, please stay home and rest. Let's look out for each other, including other park visitors and park rangers.
Trail: Head West on Summit Loop Trail, meandering along Colma Creek and then April Brook before you enjoy the steady climb to trail marker 19 for great views of the Pacific Ocean and Point Reyes Peninsula to the north. Continue down Summit Loop Trail, enjoying the sweeping views, until trail marker 17 where you will split to the right, taking Dairy Ravine Trail back down to the parking lot on Radio Road. Can you identify that peak in the East Bay? This moderate hike is approximately 3.5 miles. Park Map
Fast Fact: In the 1950s and 1960s, planners and developers proposed cutting off the top of San Bruno Mountain and dumping it in San Francisco Bay to create landfill to house new subdivisions. Thank goodness that didn't happen!
Address: 555 Guadalupe Canyon Pkwy, Brisbane
Parking: Plenty, $6
Don't Forget! Dress in layers, bring water, wear sunscreen, social-distance of at least 6 feet!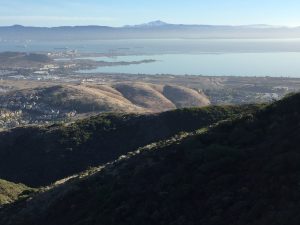 Get there: From US-101 North, exit Bayshore Blvd. in Brisbane. Follow Bayshore Blvd for about 1.7 miles, then make a left onto Guadalupe Canyon Parkway for 2.2 miles before making a right into the parking lot. At the gatehouse, make a right and follow the road as it curves to the right to a second, smaller parking lot on Radio Road.
From San Francisco: Take US-101 South to Bayshore Blvd (follow signs for the Cow Palace) and merge onto Bayshore for 2 miles before making a right onto Guadalupe Canyon Parkway.
From 280 North: Take exit 47 toward Eastmoor Ave. Head left (north) on Junipero Serra Blvd. Turn right onto San Pedro Blvd.  San Pedro Blvd will turn into E Market Street, and E Market Street will turn into Guadalupe Canyon Parkway, which will take you eastward up the canyon.  The Park entrance will be on your left toward the top of the hill.
Enjoy your hike! Take a selfie and share it to our Instagram feed at smcpfoundation.