Equipped with numerous picnic areas plus playing fields and courts for softball, tennis, volleyball, petanque and horseshoes, Flood Park is a popular site for family reunions, birthday parties and corporate events. During the week, the park is more quiet and a perfect place for an afternoon stroll.
Located in the midst of urban development in Menlo Park, the 21-acre Flood Park welcomes visitors with large native oak and bay trees surrounding a wide open space with plenty of amenities. There are grilling areas for adults and a fully-equipped playground for the little ones. There are also big plans to give this park a long overdue makeover.
San Mateo County Parks is in the midst of a community planning process to reimagine Flood Park. Proposed improvements to the park include renovating the existing baseball field, adding a new soccer and lacrosse field as well as a pump track (for bike riders), a basketball court, a demonstration garden and more.
Flood Park is a fantastic family activity center. Special events and movie nights take place throughout the year, and there is ample parking available in a paid parking lot ($6 per vehicle- cash only). Multi-stall restrooms with indoor plumbing are scattered throughout the park for your convenience, too.
Natural Features
Flood Park is known for its prominent heritage trees including coast live oak, valley oak, coast redwood and California bay laurel. The trees provide ample shade and quiet nooks for contemplative moments. The park is flat and offers trails for walkers, runners and cyclists and there are accessible facilities to accommodate wheelchairs.  One will see many different types of birds including woodpeckers, mockingbirds, scrub jays, red-tailed hawks and other raptors.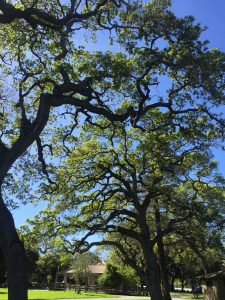 History
In the 1800's, Flood Park and the surrounding area was used for hunting, fishing and gathering by the Costanoan Indians. When European settlers arrived mid-century, the Native American population came under the influence of the missionaries and the area became part of the Spanish Rancho de Las Pulgas. With time, parts of this land were sold off for development and around 1863, a man by the name of James C. Flood purchased a 600-acre tract where he built his large estate, Linden Towers. James Flood was a silver baron, famous for mining the Comstock Lode in Nevada. His long-gone mansion had 43 rooms and stood almost seven stories tall.
Eventually part of his estate became Flood Park, the second park to be added to the San Mateo County Parks system. During the 1930's, the Work Progress Administration constructed an administration building, a swimming pool, the caretaker's residence, restrooms and picnic sites in an effort to provide jobs during the Great Depression. Having hardly any budget for developing this park, Parks staff had the WPA workers make adobe bricks out of dirt, clay and straw. The dirt was excavated on site, which worked out well as the excavation site became the swimming pool.
The public swimming pool is no longer there, but when it was, there could be up to 200 swimmers splashing about on any given warm day. During the 1940s and 1950s especially, Flood County Park was one of the most popular recreation spots in south San Mateo County. Thousands of county youngsters learned to swim here, with as many as 60,000 admissions each summer. There was a seven-person lifesaving crew and both swimming and canoeing classes were conducted in the pool. Eventually with time, the cities took on more of the recreation programming while the County focused on adding to its parks portfolio, and in the 1970s, the by-now antiquated pool was taken out.
In the 1980s, Flood Park was known for something else, and this time, it received national attention. A new resident to Menlo Park, Phyllis Cangemi was confined to either a wheelchair or motorized scooter. She approached the County of San Mateo with her vision of Flood Park becoming an international model for a facility that was friendly to disabled people. The County was so inspired by her passion, that they took on an $800,000 modernization project that included specially designed swings and benches, restrooms and water fountains, and many other elements that made the park welcoming to people of all abilities.
In 1998, the San Mateo County Parks Foundation was formed and made the old adobe administration building at Flood Park its initial home. One of the first grants the Foundation gave to County Parks was $125,000 for safer playground equipment at Flood Park. Today, the San Mateo County Parks Department is planning for the park's next act. You can follow that process here.