Guest authored by Doug Silverstein
Visualize your fas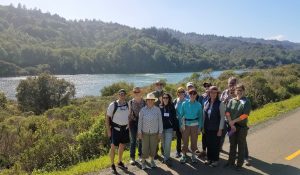 t-paced workout on the treadmill at the gym. Just left is your good friend Jill, and beyond her worked-over brows are two dozen grunting, bouncing millennials and gen X, Y, and Z'ers.
"How you doing?" you scream, checking Jill's speed to justify your deep chested panting.
"I just got back from a <muffled> … [gasp] … <inaudible> conference!"
"WHAT, a gelled hair bomber jet?" you yell over the colossal weightlifter's rumbling clean-and-jerk.
Whoa… wait a second. Time out!!!
How about picturing the same dialog staged beside a serene blue reservoir, under silent shining rays, and with soft breezes calming your sun kissed face.
Gliding over smooth and spacious terrain, and between rustling laurels and pepperwoods, your friend shares exciting news from the healthcare conference. You update Jill on the kids and book club.  Then, in unified chorus, you shift to this morning's Op-Ed on the Green New Deal.
Of course, the gym is an important stop for us hustling Peninsula dwellers. But isn't it time to get outside, enjoy local environs, and build relations – with fellow humans and Mother Earth?
That's exactly what 15 local environmental leaders did Wednesday April 10 on the fourth of ten 2019 SMC Hike-a-Palooza treks. On this outing, our team tackled the Sawyer Camp segment of the Crystal Springs Regional Trail.
Covering six of its 15 miles that span from San Bruno to Woodside, we built relationships with each other by listening to and hearing other's wisdom. And unknowingly, amidst thoughtful conversation, we connected with our planet's cleanest natural resources — sun, wind, and water. Yes, the same ones now replacing fossil-fuel's dirty trio — gas, coal and oil.
While stretching my hiking legs, I learned about San Mateo County's water sources and management from Carol. And with oxygen filled lungs, I then updated Alan on the county's electrified buildings codes. Up ahead, Marty spoke to Petra about strategic planning courses, while Chris keenly envied Bob's trip to the Arctic.
Ask anyone on that 2-hour journey, like Dave, Deborah, or Larry, — "did you meet someone new who's in your line of work?" No doubt, you're guaranteed an affirmative.
Or make this inquiry — "did you learn something new to advance your sustainability progress?" I'm confident, you'd get a unanimous "YES."
Maybe most importantly, probe into this one — "did you identify a new idea that could meaningfully help you reach your environmental sustainability goals?"
Well, probably not. Not in discourse with new acquaintances on a 2-hour hike. Or even over Wursthall Restaurant & Bierhaus cold ones at the post hike gathering, which we quite refreshing.
But each of us now has 14 new connections we can follow-up with on important inquiries in the coming months, and with a much stronger response rate because of last Wednesday's building of human and natural relations on Crystal Springs Trail.
As for the immediate feedback — "Thanks for making this happen," emailed Marty just after the hike. "I look forward to attending more."
So, once again, the Hike-a-Palooza's goals — to "get social, enjoy nature, and broaden networks" — were evidently met on this fourth of ten treks. Just as they were on the first three; and expected on the next six.
So, join us on these next hikes. Meet new friends and walking partners, maybe Karen and Diane. And bond with some excellent humans, like Gary and Michael. And importantly, look to build relations with that person who might meaningfully help you reach your environmental sustainability goals.
Previous Hike-a-Palooza blogs:
Doug Silverstein is a 23-year San Mateo County resident and local sustainability leader. As a volunteer for Citizens Environmental Council of Burlingame, Citizens Climate Lobby, Sustainable San Mateo County and others, Doug has used his decades of technology sales and marketing skills to champion local clean energy and transportation justice causes.
Join San Mateo County Parks Foundation and other San Mateo County sustainability leaders on one or more of these hikes. San Mateo County Parks Foundation inspires people to care for, learn about and enjoy San Mateo County Parks.