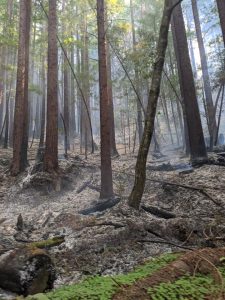 After closing completely to attend to the CZU Lightning Complex Fire, San Mateo County Parks have returned to Phase II of the COVID-19 park management plan. Thirteen of the County's 23 parks are now open daily from 8 a.m. to 7 p.m. Most park rangers had been assigned to Pescadero Creek County Park to assist CalFire in containing the wildfire. Park rangers cut fire fuel breaks, created defensible space around critical infrastructure and made sure people stayed out of harm's way.

Parks that are open:
Coyote Point
Crystal Springs Regional Trail
Edgewood Park and Natural Preserve
Flood Park (parking lot remains closed)
Huddart Park
Junipero Serra Park
Mirada West
Pillar Point Bluff
Quarry Park
Ralston Bike Trail
San Bruno Mountain
San Pedro Valley
Wunderlich Park
The parks of the Pescadero Creek Complex remain closed, as they are located in a mandatory evacuation zone. As of now, the CZU Lightning Complex Fire has burned 85,746 acres and is 48% contained. Close to 2,700 acres have burned at Pescadero Creek Park. Old Haul Road was the fire break that prevented the fire from going further north and east into the park and toward the community of La Honda.
Parks that remain closed:
Fitzgerald Marine Reserve (tidepools and beach are closed but trails and restroom are open)
Friendship Park
Devil's Slide
Memorial Park
Moss Beach Park
Pescadero Creek Park
Sam McDonald Park
Sanchez Adobe
Tunitas Creek Beach
Woodside Store
San Mateo County Parks Director Nicholas Calderon, "I want to express how proud I am of the way park rangers and other staff conducted themselves during this crisis. Their resolve to protect the residents of San Mateo County, our parks, and each other has had a life changing impact on so many."
We echo that sentiment! Thank you park rangers, CalFire and all emergency first responders for protecting life and property.